The Personality of Pubs
I've written before about my penchant for pubs (see http://www.wanderingengland.com/pubs-of-great-britain/), but I've never really given a sense of the inner clockwork… the tick tick ticking of clientele… the humor and the sense of why it is pubs have been so popular in the UK.
In my previous article, I give a history and background of pubs. But there are certain characteristics of pubs that make each one as individual as a thumb print. American pubs don't seem to capture this for some reason. At least in Austin, our pubs are more bars than they are pubs… where people go to have a drink after work. They are not the heart of a community as they can be in the UK.
Country vs City Pubs
City pubs are geared more to fast turnover and wide varieties of food and drink. One of my favorite London pubs, the Minories, is able to do this within a stone's throw of the Tower of London while giving the customer a friendly welcome. Warm flagstones and a line of draught pulls along a massive wooden counter give you a kind of cozy feeling. As if to say, "I know you're in the middle of the world's largest city and trapped by billions of tourists and commuters, but it will be ok!"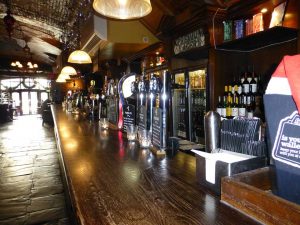 The Minories
Many of the pubs in central London will have shorter hours as the businessmen are all home and trade is a bit slower.
The first country pub I can recall going into was our local in Dacre Banks. Dacre Banks is a tiny town… in fact, it only *had* a pub in those days. When we walked in, talking stopped and we were eyed distrustfully by the clientele. It was a bit like the scene from American Werewolf in London ! Of course, this was back in 1981, and things change.
Country pubs tend to be more rustic and more authentic. My most recent visit to the UK, I was taken to dinner at a small pub called the White Hart. The Lake District draws hikers and outdoor enthusiasts from around the world, and the White Hart gives a taste of what things were like before the massive holiday invasion of the north. Until around the Victorian and Edwardian periods, Cumbria (the county that is home to the Lake District) was seen as a dark and scary place filled with highwaymen and thieves. Where roads were few and where the wilderness held only tales of ghosts and demons rather than the sunny walks along Derwentwater of today. When you walk into the White Hart, you know you're walking into history. Surrounded by ancient (and rather dusty) taxidermy, antique harness buckles, and dogs either asleep on the floor or playing happily with their owners, you get a sense that 200 years ago, you would have walked into the same scene without batting an eyelash.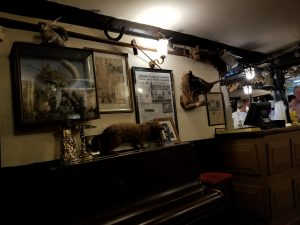 White Hart
Not all pubs are dog-friendly, but a goodly amount are, and many offer garden seating for the nicer days of summer. Some pubs are reknowned for being dog friendly (like the Dog and Gun in Keswick). As long as your dog is well-behaved and out of the way of treading customers, you've got a great place to stop by for a pint after your day's hike.
Pub hours are a bit helter skelter. A country pub might open around lunchtime, close in the afternoon, and reopen in the evening. Nowadays, especially in the cities, you can find pubs open at all hours. The Minories serves breakfast, lunch, and dinner! So, it's always good to check the hours before you go.
Sense of Community
From ancient times, pubs or public houses were a source of community gathering. Anyone, any time could drop in for a pint and a chin wag (chat). I'm sure that in the dark, cold winter months pubs were one of the few respites citizens had to stave off the doldrums. In fact, most pubs until more recently, served only drink rather than drinks and food. There are very few "drinks only" pubs these days. And, in fact, until the last few decades pubs were really only known for their beer, ale, and whiskey. Cocktails were unheard of in a pub (and still are in some parts of the country, I'm sure).
Pubs as places for travelers to lodge (also known as Inns) are still evident. Not all pubs will have accommodations. I stayed at an ancient pub (the Old Brewery House) in Reepham one year and was treated to a very large room with high ceilings, creaking floorboards, and a gigantic four-poster bed. I was sure there were ghosts around every corner! The Old Brewery closed a few years ago due to lack of trade and has now re-opened (and been sympathetically remodeled) as the Dial House. From the looks of the remodel, it's a beautiful place to stay!
The decline of the British pub is certainly disconcerting. Pubs are not just drinking establishments, but a safe place for the young and elderly to gather amicably under one roof. Since the decline of pubs, I am very concerned about the welfare of the elderly who may find themselves without interaction with the community due to the loss of their local.
With high taxes on served alcohol (licensed establishments) and the ever-more-discerning customer, pubs have had to reinvent themselves to retain clients.
Gastropubs
One thing that draws people to pubs is the food. Traditionally, at a country pub, you could get yourself a "Ploughman's" (a plate of bread, cheese, pickle, and an assortment of other cold foods) or on Sundays a proper roast lunch with Yorkshire pudding! I suppose these were what prompted more pubs to consider the food side of the business. The advent of the gastropub is evident throughout the UK and has been fostered by such chains as Wetherspoons and Punch Taverns.
Gastropubs are, basically, pubs that serve food. The better the food, the more likely the pub is to be a success. (In America, we call this "diversification.") I've had some awesome meals in pubs, and some chefs who amazed me with their creativity. Even so, sometimes there's just no substitute for the simple Ploughman's and a cold cider.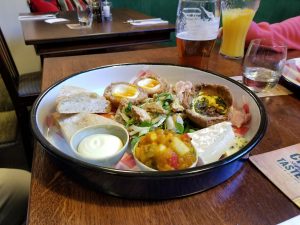 Ploughman's
Afterthoughts
The lack of inclusion of women into pubs seems to be an issue even in this day and time. I was recently told that women who go alone into a pub are seen as "loose" or undesirable. Pubs are the bastion of men and, historically, are places where they could go to drink, play darts, and relax after a busy work day. Women didn't fit into that scenario and it's a hard mold to break. The British are very traditional in many ways. However, having said that, I've walked into pubs near and far on my own and never felt like I was treated in any way like a loose woman on the make. So, perhaps that image is dying (I hope so). Because, lord knows, I love a good pub!
As you may have guessed, each pub has its own personality. From the posh gastropub in London to the White Hart in Cumbria, the availability of this uniquely British icon has a rich heritage of communal solidarity. It's something to be cherished, nurtured, and saved as a part of the culture of a great nation.
I'll drink to that!